Red JongKong Kratom is one of the lesser known Kratom strains. Aside from the vein's scarcity in terms of offer, the few people that actually try it don't necessarily rush to tell their friends or the Internet about their experience. In terms of potency, it can rival its Red Vein Bali and Red Borneo cousins.
We've had our fair share of Red Vein JongKong and what we can say for sure is that the quality of your powder will very much determine your upshot. In our experience, given what we've sampled so far, The Golden Monk's Red JongKong was the most intense and distinctive.
Since we started the blog, we had the pleasure to test over 20 Kratom vendors, and we keep testing them month by month so we can keep our readers up to date with the best online kratom vendors. If you are looking to buy Kratom, our honest recommendation would be to check out New Dawn Kratom (direct link, we are not affiliated with them in any way, we also have an in-depth review on them here), they managed to deliver the best Kratom in May 2021 (we buy and test multiple vendors monthly and update our reviews and top picks), with 20% OFF using the coupon code you can find on their website, prices starting (after discount) at $16 for 250g of Kratom, it's a no-brainer.
Check Out Our #1 Recommended Kratom Vendor for Red JongKong Kratom
Boost of physical energy
Feelings of happiness and euphoria
Muscle relaxation and sedative effects
2-12 grams
(½ tsp - 3 tsp)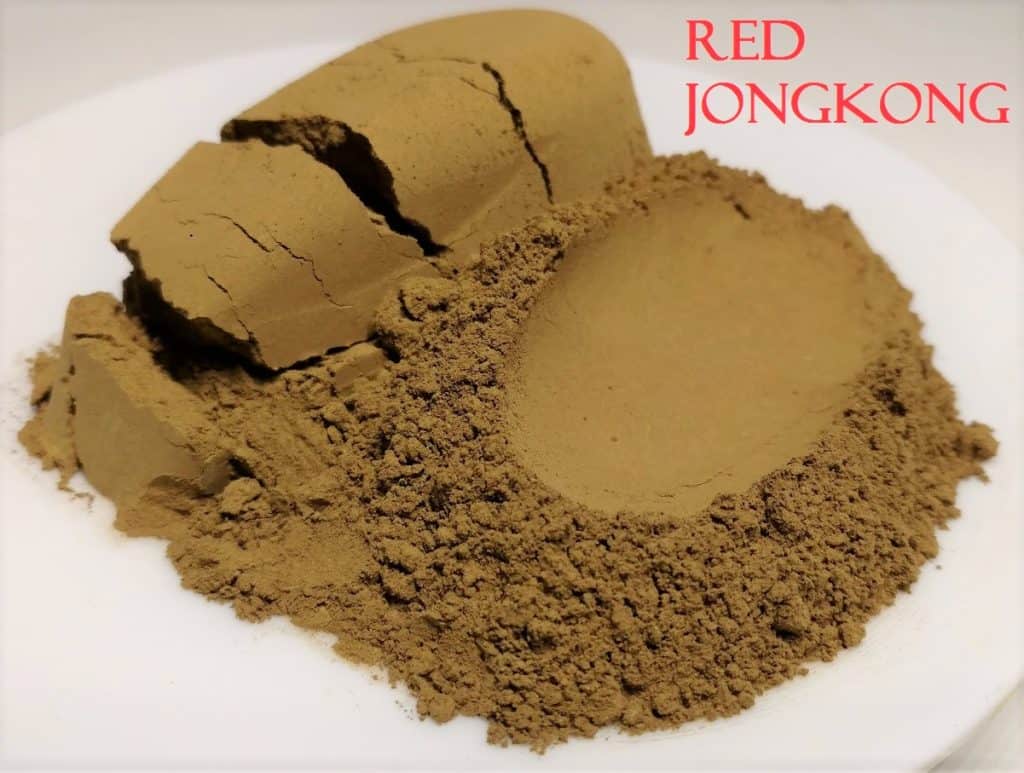 What Is Red JongKong Kratom? 
The name of Red JongKong Kratom is given by the small, isolated village in the Kalimantan Barat region of Borneo, where the plant is grown and harvested. Since it originates in such remote place, which is mostly accessible by the Kapuas river, it is to be expected that the availability of Red Vein JongKong is extremely limited. 
Like most of the Red Veins, you can expect Red JongKong to deliver a painkiller effect seconded by a state of calm and serenity. We know, for example, that locals have been using JongKong Kratom for generations as part of their folk medicine and rituals. Fortunately, they've been generous enough to share some of the local yield with certified Kratom vendors.
Red JongKong Kratom Effects and Benefits 
To fully experience Red Vein JongKong Kratom effects, users say they need a smaller dose than with other strains. With this in mind, here are the most commonly reported Red JongKong benefits:
Good Painkiller. The strain is potent enough to help you replace OTC sedatives. Use it to either limit or minimize your reliance on drugs to manage your pain.
Relaxation and Calmness. If you're going through an intense period of your life, Red Vein JongKong will help you wind down at the end of an arduous day.
Euphoria. Although rare, we have had our fair share of euphoric Red Vein JongKong upshots. In our experience, this is more likely to happen to starters.
Red JongKong Kratom Dosage
If you're lucky enough to get your hands on a premium batch of this strain, we advise you be careful with your Red JongKong Kratom dosage. Especially when something is out of reach for a long time, people tend to exaggerate. 
For starters, you'll want a modest dose of 0.5 to 1.5 grams, depending on how tolerant/sensitive you think you may be. Beginners commonly take between 1 and 3 grams to really feel the Red JongKong, whereas regular Kratom enthusiasts average between 3.5 and 5 grams.
Although many expert consumers go beyond 7, even 8 grams, we advise you err on the side of caution and make that your upper limit. Even if Kratom is a natural product, any substance can have potential side-effects when consumed excessively.
Consumer Reviews
Since we've only had the fortune to try Red JongKong Kratom a handful of times, we relied on other people's opinions to also guide our review. To give you the same opportunity, we've included a couple of Red JongKong reviews below:
"I've been purchasing Kratom from certified Kratom vendors for several years now. When one of them gave me the heads up that JongKong will be around, I just had to try it. This Red Vein's potency is not to be trifled with. It was a true delight after a hard day of work."

Paul: January 21, 2020
"I never heard of Red JongKong before my girlfriend introduced me to it.  She takes it for her chronic pain, but I thought I'd give it a try when I was recovering from a nasty accident and it was incredibly effective. I could not believe how well this works. Why do we even need painkillers?"

Luke: June 18, 2020
Red JongKong Kratom Alternatives 
If you don't click with Red JongKong or you find yourself looking for some variety, there are alternative Kratom strains that can help you achieve similar results. Red Vietnam and Red Dragon are effective at alleviating pain, whereas Red Maeng Da and Red Thai are more suitable for a euphoric effect.
Is It Worth Trying? 
If you ever happen to stumble across Red Vein JongKong Kratom at your favorite vendor, our advice is to at least get a sample pack. We see it so rarely nowadays that it's just not worth passing up on the offer. Furthermore, if you want to ensure that your Red JongKong delivers on its intended effects, we recommend you only buy from certified vendors like The Golden Monk.