Moon Kratom is a Texas-based online kratom vendor that has generated plenty of controversy since it was established in 2015. Strangely enough, while most consumers are wary to try their products, a few reviewers swear by the quality of their micro-powdered strains.
Unfortunately, apart from some glowing, yet somewhat suspicious reviews, there aren't many things that suggest Moon Kratom is a reliable vendor. Given that some of their powders are allegedly uniquely powerful, it is a real shame that the company could not establish a more trustworthy reputation.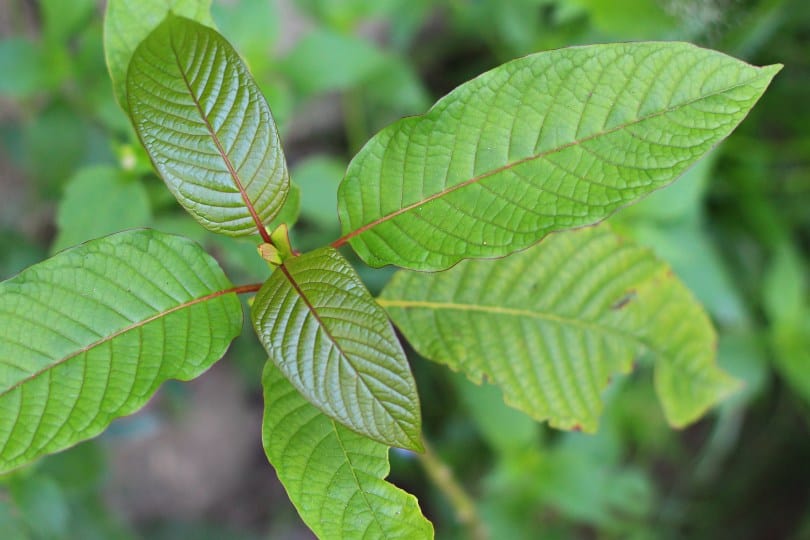 Moon Kratom Products
Moon Kratom's offer is not necessarily the most comprehensive, but it certainly includes some interesting products. On their website, you'll find varieties of Maeng Da, Red Bali, White Borneo, Red and Yellow Indonesian, as well as Yellow Thai. While some of these strains are fairly common, others – such as their Yellow Indo and Thai – are much rarer. What's more, frequent customers claim that Maeng Da Kratom purchased from this vendor is the strongest they have ever experienced.
One great thing about Moon Kratom's products is that they are all micro powders. In other words, the leaves used to obtain these powders were very finely ground until their texture became similar to that of flour. This is an important feature for those who prefer to take Kratom using the toss and wash method because these people find it much easier to ingest micro powders compared to crushed or coarsely ground leaves.
The vendor also sells a Maeng Da tincture (or liquid extract) for those consumers who find it difficult to tolerate the taste of powdered Kratom. Each bottle comes in 7 ml and is allegedly stronger than any other Kratom extract.
Prices
At $22 per 100 grams, most powders sold by Moon Kratom are neither expensive, nor very cheap. Their pricing is slightly lower than the market average, but is particularly advantageous only for those customers who purchase in bulk. 
Some consumers are wary of the fact that these products are suspiciously affordable. Although it is possible to find low-priced, high-quality Kratom, it doesn't help that Moon Kratom's website looks quite sketchy. Worse yet, the company has published only two Kratom safety analyses since it was established almost five years ago. These were done for their Green Maeng Da and Red Bali, but are already several months old and therefore no longer reliable.
Shipping
Shipping seems to be an even bigger problem for Moon Kratom. They do not have any free delivery options and, although they promise that shipping will take no longer than a couple of days, most of their reviewers state otherwise. In fact, there were several cases where clients received their orders with more than a week's delay. They were not compensated in any way for the inconvenience.
Customer Support
Moon Kratom's return policy is yet another drawback. The vendor only accepts exchanges and refunds for products that were not open and that are shipped back in mint condition. Otherwise, it doesn't matter if you experience issues with your powder – there is no way to return it or ask for a different variety in return.
What's worse, aside from the fact that the client must pay for shipping in case of a return, the vendor also reserves the right to charge the former a "return fee" of $4.5. This is certainly not a common practice among online Kratom vendors and makes you wonder if its only purpose isn't to dissuade clients from returning products in the first place.
Client Testimonials
At a glance, several issues seem to suggest that Moon Kratom is not the most trustworthy vendor out there. Even so, there are some Moon Kratom reviewers that claim otherwise. Whether their feedback is real or not is difficult to ascertain:
Tucker: March 19, 2019
"I've never had any issues when ordering from Moon Kratom. They sell a good product and have great service, which is why I never even considered switching to another vendor. I especially love their Maeng Da extract, which is one of the strongest Kratom products I have ever sampled."
Kelly: August 1, 2019
"It took more than a whole week for Moon Kratom to deliver my order even though I live in Texas! When I finally got in touch with customer support, they were dismissive and sent me a one-word reply about the day when the package would reach my address. I finally got my bag of Green Maeng Da and it was the weirdest experience I've ever had with Kratom – headache and nausea included. Will never order from this vendor again."
Is It a Reliable Vendor?
Given the controversy that has surrounded this vendor from its very first year of existence, it's difficult to say that Moon Kratom is a reliable source. From poor business practices to products that may or may not be safe, there are a number of reasons why you should look elsewhere if you want to try a new vendor.
The Golden Monk, for example, is a vendor that publishes the results of more than 15 Kratom safety reports on a monthly basis. Such a website is significantly more trustworthy, which you can also gauge from their reviews.