Red Gold Kratom may sound like a confused leaf, but we assure you that it is as potent as any other strain of Kratom. In fact, if you've managed to buy Red Vein Gold Kratom from a trustworthy vendor, it will most likely have a significantly more potent effect than that of Red Bali, for instance.
As a seasoned team of Kratom testers, we've had our fair share of Red Gold, with or without "super" attached to it. In time, we learned that the powder we buy from different good kratom vendors may actually have different effects. In our experience, The Golden Monk's Red Vein Gold was the only product that actually delivered the reputed strength of this strain.
Since we started the blog, we had the pleasure to test over 20 Kratom vendors, and we keep testing them month by month so we can keep our readers up to date with the best online kratom vendors. If you are looking to buy Kratom, our honest recommendation would be to check out New Dawn Kratom (direct link, we are not affiliated with them in any way, we also have an in-depth review on them here), they managed to deliver the best Kratom in May 2021 (we buy and test multiple vendors monthly and update our reviews and top picks), with 20% OFF using the coupon code you can find on their website, prices starting (after discount) at $16 for 250g of Kratom, it's a no-brainer.
Check Out Our #1 Recommended Kratom Vendor (Legit Choice, Not Sponsored)
Check Out Our #2 Kratom Vendor Recommendation (Sponsored but they are absolutely fantastic vendors)
Pain relief and muscle relaxation
Effective at combating opiate withdrawals
2-12 grams
(½ tsp - 3 tsp)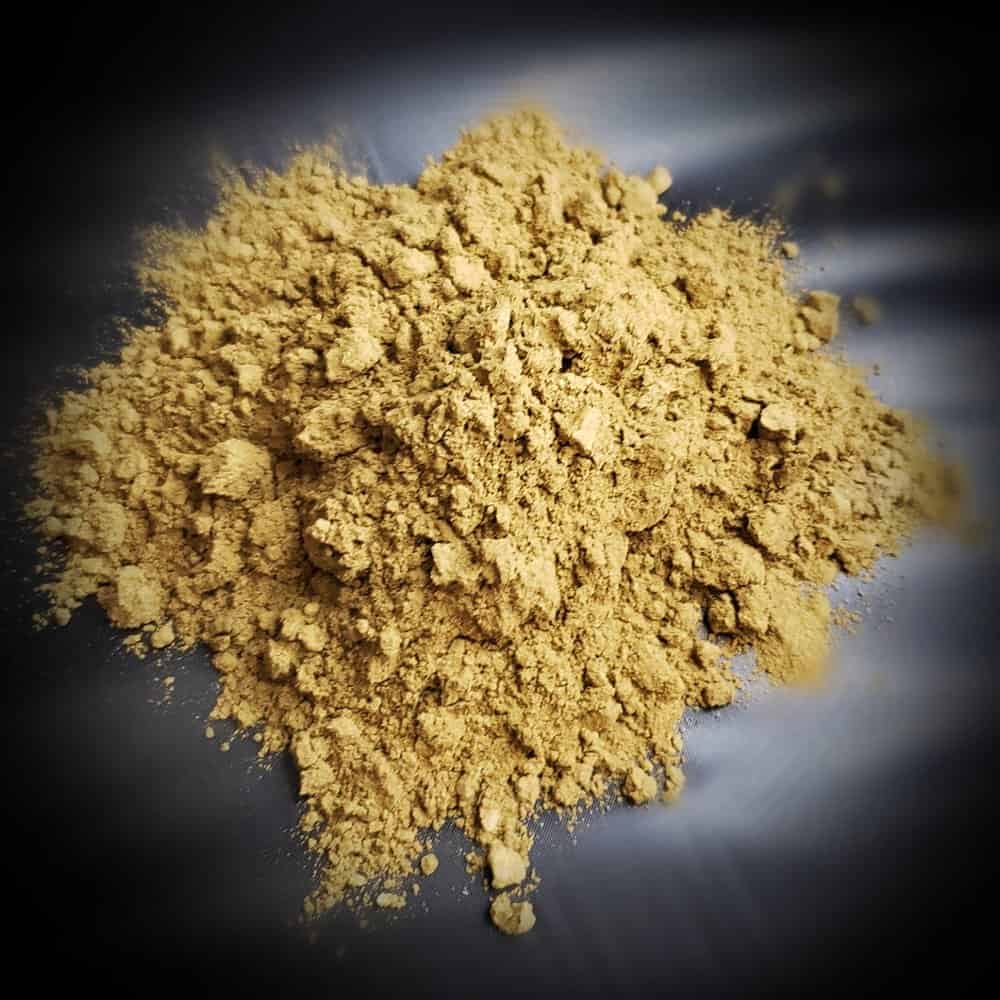 What Is Red Gold Kratom? 
Red Gold Kratom is a name that refers both to a specific strain of the plant, as well as to the way in which this product is processed. Red Gold can be made from either of the readily available ruby red strains, so the exact blend that goes into each Gold package depends entirely on the vendor. If you're buying from a certified website that markets only premium blends, you'll most likely get Borneo, Horn, Thai, or Maeng Da. 
The Gold designation actually indicates the yellowish tint of the powder. The latter gets this color when the Red Vein Kratom plant is subjected to a specific type of oxidation (drying), which actually strengthens its effect.
Red Gold Kratom Effects and Benefits 
Because of this blend's potency, we advise you to pursue Red Gold Kratom effects with great caution in terms of dosage. Here is a list of the most frequent Red Gold benefits you can expect from your powder:
Potent Analgesic. The strain's potent alkaloids will deliver a strong sedative impact to users who struggle with pain. Red Veins usually take longer to settle in, so don't rush a bigger dose or your painkiller might turn into something else.
Relaxation and Calmness. In modest to moderate amounts, Red Gold will help you relax after a tough day.
Euphoria. With higher doses, you might experience a feeling that is often described as rapture. It's not as intense as the one delivered by opioids, but it's one of the strongest natural euphoria.
Red Gold Kratom Dosage
Because this powder is highly concentrated, your Red Gold Kratom dosage should be, on average, 0.5 to 1 gram smaller than your usual. Starters should aim for 0.5 to 1 gram of Red Gold, while beginners will most likely feel comfortable with an amount between 1 and 2 grams.
Casual Kratom consumers should calculate their Red Gold Kratom capsules dosage to land between 2.5 and 4.5 grams, but experts can often go up to 7 grams at a time. We do not advise you go as this high with your dosage. The substance might trigger an unwanted physiological reaction and, instead of feeling relaxed, you might actually feel overly stimulated, nauseous, and irritable.
Consumer Reviews
Several Red Gold Kratom reviews might tell you what other people have thought about this odd strain. Note that this is their subjective experience and it might not necessarily reflect how your body will react to Red Vein Gold.
"Red Gold helped me kick opioids. After almost a decade of seeking regular relief through prescribed OTC drugs, I can now replace these harmful products with, get this, a natural herb. This is just unbelievable. For me, it wasn't necessarily the pain, but rather the grueling withdrawal symptoms. Red Gold Kratom lets me go through them no worries."

Matthew: February 13, 2019
"Maybe it's just me, but the Red Vein Gold that I ordered was the best Kratom I have ever tried. As a customer service rep, I get my fair share of stress from many people on a daily basis. I cannot retaliate, so I end up bottling up my feelings, which prevents me from being able to disconnect after work. My cousin recommended Kratom and, boy, did it help. I'm very frugal with my dose, though."

Pavel: May 1, 2019
Red Gold Kratom Alternatives 
It may happen that Red Gold Kratom effects are not as prominent in your case as they were for other people who tried it. Fortunately, there are plenty of alternative strains out there. For pain relief, we recommend Red Vietnam or Red Kali, whereas anxiety is better managed with Red Hulu and Red Malay.
Is Red Gold Worth Trying? 
Red Vein Gold Kratom was one of our most delectable experiences, so we actually consider ourselves lucky we got to try it. If you have a chance to sample it, you should absolutely go for it. Despite this, we'd pass on the offer if the powder is not available on the website of a certified vendor, such as The Golden Monk. Premium quality Red Gold is worth it, but subpar Kratom is not.