Green Maeng Da Kratom is one of the most potent strains currently on the market. Like all Maeng Da varieties, it has achieved widespread popularity on a global level thanks to its immediate and long-lasting effects. In the case of Green Vein Maeng Da, these include stimulation, relief from sharp pains, as well as calmness and a state of improved focus.
According to most consumers, this strain borrows from the benefits of both Red and White Maeng Da without sacrificing too much in terms of potency. When used in different doses, it can have a wide range of effects, which partly explains its notoriety.
Known for its potent stimulating effect
Can be used as an alternative to coffee
Offers relief from sharp pains
1-8 grams
(¼ tsp - 2 tsp)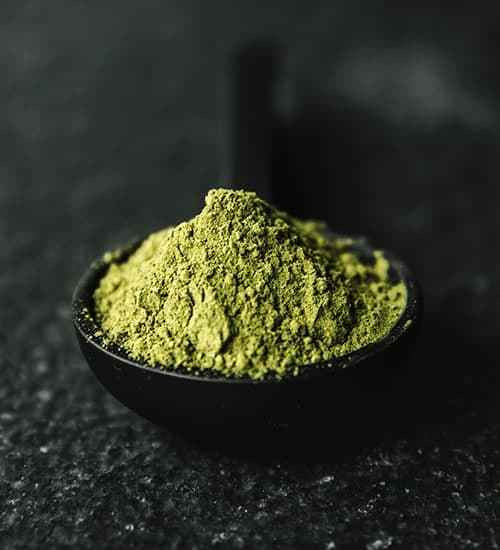 What Is Green Maeng Da Kratom?
Originally cultivated in Thailand, Green Maeng Da Kratom now comes predominantly from West Kalimantan and Bali. Its name was initially derived from that of a local water bug, the Lethocerus Indicus, which was, at the time, considered to be a delicacy by the indigenous population. In direct translation from Thai, "Maeng Da" actually means "Pimp", which has prompted some users to qualify this strain as "Pimp Grade" due to its particular strength. 
Unfortunately, not all Green Vein Maeng Da Kratom is as pure as advertised. Due to the fact that many kratom vendors have made unwanted compromises in terms of quality, the strain has become associated with unreliable or inconsistent effects. This is why it is all the more important that you purchase your Green Maeng Da from a trustworthy seller. We, for example, have sampled this strain from tens of different vendors, but were never able to replicate the intensity and strength of Green Maeng Da from The Golden Monk.
Green Maeng Da Kratom Effects and Benefits
Green Vein Maeng Da Kratom effects are strong and durable, which is why so many consumers prefer to use this strain for both medicinal and recreational purposes. Some of its most noteworthy benefits include:
Relief from moderate to sharp pain. Green Maeng Da delivers an immediate analgesic effect that is strong enough to ease very intense pain. Its long-lasting impact means that users only have to take a small quantity every day.
Powerful energy boost. Like White Kratom, Green Vein Maeng Da is a potent stimulant that can be used to replace coffee. In addition, this strain does not induce jitters, but rather promotes a state of calmness and focus.
Better mood. This Green strain is often used for recreational purposes because it helps consumers relax, overcome social anxiety, and enjoy themselves.
Green Maeng Da Kratom Dosage
Because Green Maeng Da Kratom effects are so potent, it is inadvisable for users to take this strain in high doses, regardless of their level of experience. For beginners, the appropriate dosage ranges from 1 gram or ¼ teaspoons to 2 grams. 
A dose of 3 to 5 grams is considered moderate and will help experienced users create most of the effects of Green Maeng Da, while 6 to 8 grams is a heavy dose and should only be attempted by consumers who have taken this strain for long durations of time.
Consumer Reviews
If you're not yet convinced as to whether you should try this strain, a couple of Green Maeng Da reviews from other users might help you make up your mind:
"I suffer from severe anxiety and fibromyalgia, two conditions that, over the years, have only made each other worse. Being in constant pain used to drain all of my energy, but that stopped when I started taking Green Maeng Da. I'm so stoked that I can take this powder at any time of the day, feel energized and motivated, and not have to suffer any side-effects from OTC painkillers!"

Wendy: February 12, 2019
"My favorite strain of Kratom! A little bit of powder goes a really long way, which is what I love about it. I use it for a quick energy boost right before noon and I stay focused throughout the day."

David: September 15, 2019
Green Maeng Da Kratom Alternatives
Powerful as they may be, Green Maeng Da Kratom effects can wear out when you take this strain for very long durations of time. To obtain similar benefits without constantly increasing your dose, you could try several other Green Kratom verities.
For example, if you're taking Green Maeng Da for pain relief, you could try to replace it with Green Malay or Green Bali. Otherwise, strains such as Green Vietnam or Green Horn can be used as mood boosters and coffee replacements.
Is Green Maeng Da Worth Trying?
As one of the most potent Green strains, Green Maeng Da is certainly worth trying at least once. If you're careful with the dosage, you can obtain a variety of effects from the same powder, which is great if you're a fan of trying new things.
The one thing to remember is that you should always purchase your Kratom from trustworthy vendors such as The Golden Monk. Otherwise, you might end up consuming subpar products or, even worse, a number of harmful substances.