The designation Green Indo Kratom is naturally derived from Indonesia, which is the country where this plant grows in abundance. Throughout each of the 17,000 islands belonging to the Southeast Asian country, one can easily stumble across several varieties of Green Vein Indo.
Green Indo's potency is usually related to the way it is processed, something which is also noticeable in the kratom powder's color. The darker the color of this strain, the higher the alkaloid content of your product and the more likely it is that you'll feel its effects.
Relaxes both the mind and the body
Can be used to fight off stress and anxiety
Offers a slight energy boost
1-8 grams
(¼ tsp - 2 tsp)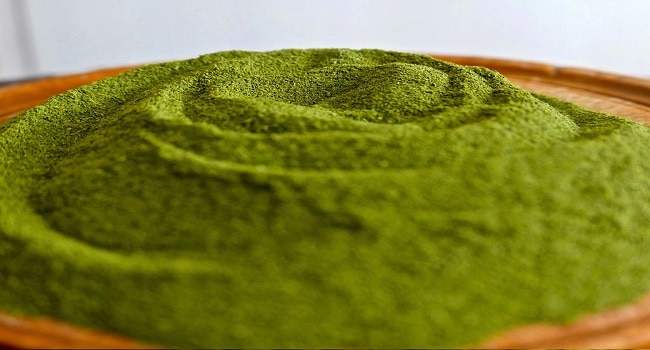 What Is Green Indo Kratom?
Although many see the fact that Green Indo Kratom does not excel in any particular aspect as a con, people who try it actually find that this is one of the best things about it. A balanced response that combines pain relief with a bit of stimulation often makes us feel better than either of the two in excess.
Depending on where you buy it, the vendor might have Green Indo varieties like Super Green, Ultra-Enhanced, or Premium. Our word of advice is to find a trustworthy retailer who has fewer, but better products. Sometimes, the abundance of "varieties" is actually a red flag that your Kratom vendor might be selling different grades of Kratom – some better, others worse.
The Golden Monk's Green Indo Kratom was actually the first one we tried. Ever since, we've sampled the same vein from no less than five other shops and it was either slightly worse or severely underwhelming.
Green Indo Kratom Effects and Benefits
Green Indo Kratom effects will differ based on a host of factors, such as individual physiology, metabolism, dosage, and tolerance. Here are some of the most frequent Green Indo benefits that frequent users experience: 
Considerable Relaxation. The most prominent Green Indo effect for beginners is that of complete relaxation. Your entire body will feel light and relaxed, which will help you unwind and significantly improve the quality of your sleep.
Good Mood Enhancement. Green Indo Kratom instills a positive attitude. This is particularly useful throughout troublesome and stressful times. It will help you better deal with pressure, as well as low morale.
Effective Stimulant. Although it won't replace a strong cup of espresso, Green Indo will give you a noticeable pick-me-up. If you know you'll need a boost of energy before a rough training session, for example, this Green Vein will provide.
Green Indo Kratom Dosage
Despite Green Indo's reputation as a beginner product, it will still cause unwanted side-effects when taken in too high a dose. Make sure you adjust your Green Indo Kratom dosage depending on your tolerance to the plant. For a slight stimulus, an amount between 1 and 2 grams is recommended. 
Regular users might want to take between 2 and 4 grams to feel Green Indo's effects, while experts often experiment with dosages that range from 5 to 8 grams. The higher you go, the more likely it is that you will pass that threshold where Kratom is beneficial, so use extreme caution when deciding your Green Indo Kratom dosage.
Consumer Reviews
A great way to see whether this strain would also fit your needs is to read through several Green Indo Kratom reviews submitted by people who have bought their product from certified vendors:
"As a first-time Kratom user, I had no idea what to choose. After a while, my best friend and I decided on Green Indo and Green Dragon. So far, I only got to try Indo and I was blasted. The most awesome thing is that there's no lethargy, so I can get my course-work done and feel good at the same time."

Tony: August 22, 2019
"Green Indo helped me avoid depression. Between having to deal with a breakup and being demoted, I was ready to give up on everything. I was fortunate enough to spend some time with a close friend who had me try some Indo. I didn't feel anything unreal, rather a distinct motivation and clarity that helped me through that difficult time. Wholeheartedly recommend it."

Chris: July 12, 2019
Green Indo Kratom Alternatives
There's a good chance that your body will get used to Green Vein Indo after a little while. Although you might instinctually want to increase the amount you take, we recommend you do not exceed the recommended dosage. Instead, some Green Indo Kratom alternatives might help you get what you need.
If you're looking for something to improve your mood, Green Malay or Super Green might do the trick, whereas Green Borneo and Green Vietnam are better suited as cognitive enhancers.
Is Green Indo Worth Trying?
Even though Green Indo Kratom is not one of the strongest veins out there, it has a reliable, balanced upshot that will help you feel relaxed and motivated. If you don't purchase your Green Indo from a certified website, however, you run the risk of consuming a lower-quality product, which may not be tested for contaminants and may also have a weaker effect. 
For premium Kratom strains, The Golden Monk's products have never failed us. We are always satisfied with what we order and, after several years of experimentation with different vendors, we were convinced that their Green Indo is one of the best you can buy.