Kratom One is an online vendor based in Santa Barbara, California that features a fairly limited, albeit unique selection of products. According to its two owners, these strains and blends are meant to bring together the absolute best-quality Kratom in the world, but for consumers like us, this can be difficult to believe when no information about the source of these powders is made available.
Furthermore, Kratom One's website is simply lackluster. It's not that we can't appreciate simplicity in design, but their pages are not merely simple; they also don't feature any of the usual (and necessary) information, such as the company's address, trademark, and details about their return policy.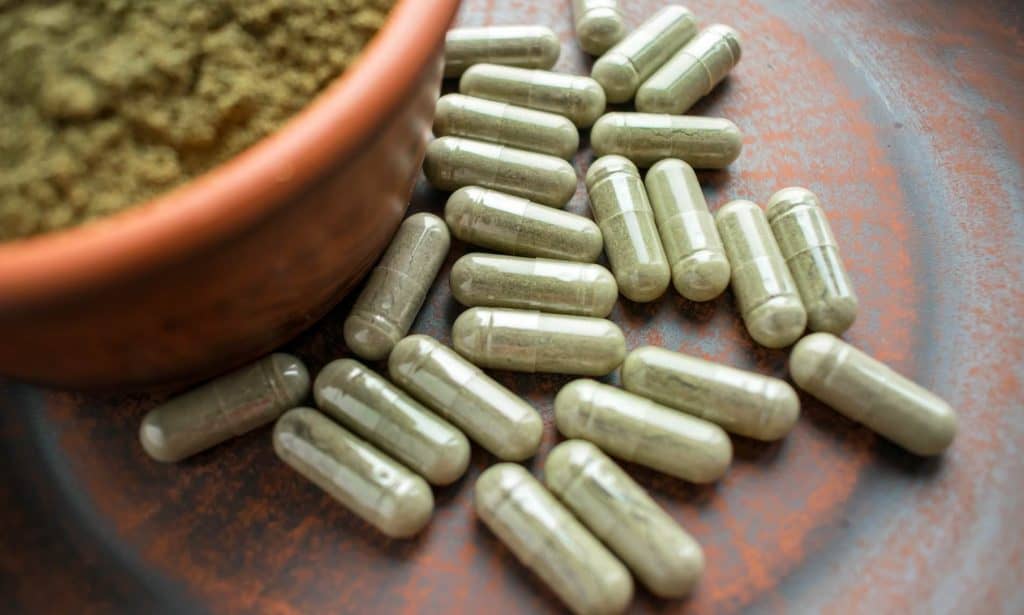 Kratom One Products
Kratom One alleges that they sell the best Kratom in the United States, which is a bold statement in itself. This seems even less believable when you consult their actual offer. The latter consists of no more than six strains and blends, some of which are more experimental than others.
For example, the vendor sells Maeng Da Kratom (but does not specify which vein), as well as the coveted Red Horn, White Bali, and Green Malay. In addition, you'll find two unique blends. The first is their Tri-Force Kratom, which is a mix of three different colored (unspecified) strains and which is advertised as "the very dream of what other Kratom lines strive to be". The description goes as far as to even state that this blend is both stimulating and sedative, which, in our experience at least, seems rather bogus.
The second Kratom One blend is their White Fire mix, which is supposed to be uplifting, stimulating, euphoric, and ideal for an active lifestyle. Presented as the "staff favorite", this blend is not described in any specific terms. We don't know what strains are used in its composition, nor do we know anything about its origins, which seems to be the rule when it comes to Kratom One products.
Prices
Here's the other bad news about this vendor. As most Kratom One reviewers will tell you, this seller's powders are severely overpriced. At $28 per 100 grams of White Fire Kratom and $250 for a kilogram of the same blend, you're better off buying your stuff from a vendor who is far more transparent about their products and still manages a more affordable price.
Certainly, you might make the point that Kratom One products have a premium price because they come in premium quality. However, aside from the vendor's own advertisements, we have no verifiable proof that this is the case.
Shipping
When it comes to shipping, this vendor maintains the same chorus, which is that they have the fastest delivery service in the United States. Although most Kratom One reviewers agree that packages usually arrive without much delay, it can still take up to 5 days for an ordered to be delivered, which is not by far the best standard achieved in the industry.
Customer Support
Unfortunately, the only way to get in touch with Kratom One is to send an e-mail to their customer support team. We've mentioned time and again that it is essential for a vendor to feature a valid phone number on their website for the purpose of credibility. For many sellers, this is obviously not a priority. 
Still, the majority of Kratom One reviews state that the support team behind this vendor is relatively prompt and will do their very best to resolve any issue.
Client Testimonials
The feedback accrued by Kratom One over the years is positive overall, although it can be difficult to verify the testimonials that are published on their own website. In absence of more solid proof, whether or not you choose to believe in the truthfulness of these reviews is a matter of personal choice:
"Kratom One is excellent at branding, I'll give them that. They also delivered my package very quickly and I was pleasantly surprised with the quality of their Bali strain. However, I was slightly underwhelmed by their Maeng Da. I read about return customers who theorized that the quality of K1 products varies over the year. Maybe I just got a mediocre batch."

Aiden: November 29, 2019
"Absolutely love this vendor. I actually order in bulk for the small smoke shop I run and my customers are always pleased with K1. Their Tri-Force blend is especially popular, although I prefer their Bali for myself."

Madison: October 7, 2019
Is It a Reliable Vendor?
In spite of a very limited selection of products, Kratom One have quickly made a name for themselves and managed to convince many consumers that they only sell premium strains and blends at a fair price. While we would give this vendor a try for the sake of experimentation, there are a few issues that we would like to see resolved before vetting them as a reliable source.
At present, the highest industry standard is set by the best kratom vendors such as The Golden Monk that understand the importance of testing for quality and of full transparency in terms of purity and sourcing. Until Kratom One adjusts to these pressing requirements, we believe you'd be better off ordering your powders from TGM or other trendsetting websites.